In 1990 the Pellegrinis left Italy for a great experience in Ringling Brothers and Barnum and Bailey Circus in the U.S.A, which has exposed them to work in front of 10.000 people per show. At the same time they were requested in the play offs season (NBA) to perform before each game. In 1993 the participated to the Festival of Monte Carlo winning the special jury price "Loews" and were chosen to display at the Gala Bal de la Rose in honor of Princess Caroline. From there they had a 4 year contract in one of the most prestigious places to perform, the famous" Lido de Paris".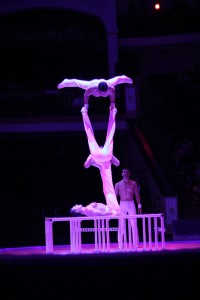 After 4 successful years in Lido de Paris, The Pellegrinis had an incredible decade working in the most known Variete and Dinner shows in Germany, such as Friedrichstadpalast in Berlin, Tiger Palast Variete in Frankfurt, Apollo Variete in Dusseldorf, and every Christmas they displayed In various Palazzo Dinner shows. During the same period in 2002 they were invited to perform at the Warsaw
International Circus Festival where they received, as special guests, a unique price to their career , and in 2003 they were requested to perform at the 15th annual Arnold Schwarznegger Classic Fitness expo (U.S.A.).
In February 2006 they were chosen to perform at the closing ceremony at the Winter Olympic Games in Turin, and that same year in June they participated to the first International Festival in Moscow, where they won the Gold Medal. After winning all these important competitions, in 2008 they had the honor to being invited, for the second time, to the most famous Circus Festival worldwide, the Festival of Monte Carlo where they were the First price winners of the prestigious Golden Clown.
The Pellegrinis also participated in several TV shows such as Star in der Manege in Munich Germany or Le plus grand Cabaret du Monde in Paris France. Moreover they displayed in several Galas for famous presentations like new Caterpillar and new BMW cars. In October 2010 they participated to the German TV show "Das Super Talent".
In December they had the honor to perform in front of the Pope Benedict XVI at his weekly audience in the Vatican. As in their usual show, they took off their shirts, so they did it also in front of the Pope, and this generated the media from all over the world to talk about these "4 brothers who tore off their shirts in front of the Pope". Italy, Germany, France, Russia, Australia, England , U.S.A. with Abc news, and even on the Washington Post. The Pellegrini Brothers since September 2009 are successfully working in the Famous Dinner show "Fantissima" in the amusement Park Phantasialand in Brühl- Köln (Germany).